Get ready for some financial pain if you're a Bakemonogatari fan, because Aniplex announced that they will be releasing US Blu-rays for the series. The set/sets are due to hit shelves this fall, and will most likely be sub only. Anybody that has been keeping up with Aniplex's domestic release track record will know the set will probably retail for a decent sum of money, so be prepared for the expense if you've been looking forward to this one. Although Aniplex's prices are pretty steep for most of the fans I've come across, I'm sure this one will sell pretty well, as the net-dwellers have been babbling about Bakemonogasomething almost non-stop.
So sell a kidney or something if you're like me and want to see what all of the fuss is about, and keep an eye out for this set later this fall.
My favorite band of Pirates is going to be immortalized in their very own theme park. Construction recently began on a 133 hectare Chinese theme park with One Piece themed rides, restaurants, and attractions. The project will supposedly cost about 60 million yen, although I'm sure that it'll turn a profit rather quickly. Wait a minute, something's wrong here....
The Chinese are so good at bootlegging things that they're trying their hand at bootlegging a theme park. That's right, this park is in no way sanctioned by Shueisha, Toei, or Eiichiro Oda. Whenever I hear about a knockoff Apple or Android store in China, I can't help but chuckle at the knockoff situation in China, so this theme park situation is particularly hilarious.
Shonen Jump Alpha is stepping up its game a bit, it seems; They've added the manga "Sensei no Baruji", locally known as Barrage, to their digital distribution line-up. Now I honestly have no idea on what this manga is even about, but I'm really supportive of it's localization. Why? Because it's still in its infancy. From what I can see, only two chapters have been published, and the author has yet to prove his mettle. This is quite a risk on Shonen Jump Alpha's part, as this new manga can go either way. While I was (and still am) against the move from print to digital distribution, I'm glad to see that the medium is allowing Viz to shorten the gap between Japanese releases and localization. Let's just hope that this new title isn't a dud, so that this sort of timeliness can become the norm.
There always seems to be a plethora of news on the K-ON! front, and K-ON! fans seem to love their merch. Today, I bring you two extra special doses of WTF, in case your prescription was running low. It turns out that somebody thought it was a good idea to make K-ON character themed banks that watch you as you move around the room. Yeah, that's right, Scooby-Doo portrait style. So if you silently wish that your wallscroll/body pillow of your favorite K-ON character would stare at you every time you entered the room, you may want to seek professional help, but you'll also want to look out for those banks.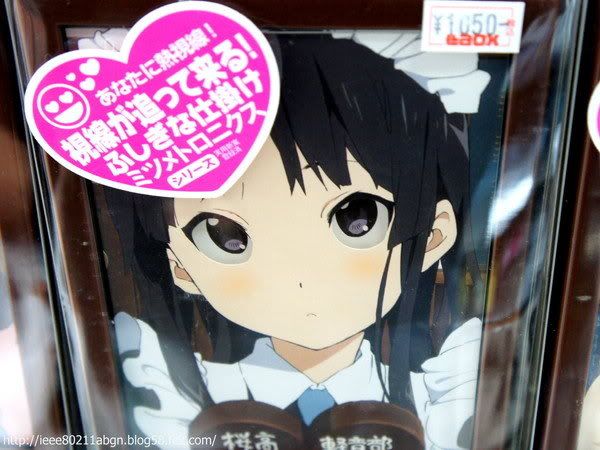 *Shudder*
Some K-ON themed panties are also set to hit store shelves, and I have to ask: Are these really supposed to be purchased by women, or are they just for pervy men?
That's all the news that I have for you today; Now get back to choking down that anime!